How to reverse a youtube playlist is a common question among people who have found themselves reverse watching a playlist and wishing that it was playing the videos in reverse order. Luckily, reversing a youtube playlist is not too difficult to do!
YouTube is possibly the world's most popular website. It is a place where people upload and share videos they create, view videos uploaded by other people or companies and watch videos of their favorite personalities discussing pop culture events. There are actually many things that can be learned from YouTube, and it has been growing in popularity for quite some time now.
What's more, there are plenty of free tutorials available online on how to use anything. People who make videos on Youtube are called YouTubers. YouTubers use Youtube to earn money through the site's partner program, giving YouTubers a share of the adverts shown before their videos.
What is a YouTube playlist?
YouTube Playlist is consisting of videos that a user has created displayed on their YouTube account. When visiting the YouTube homepage, users are given a customizable list of playlists created by other people, such as popular or recently added playlists. Users can also create their own custom playlists and share them with others. A playlist will show as a thumbnail next to the playlist's name and have a description.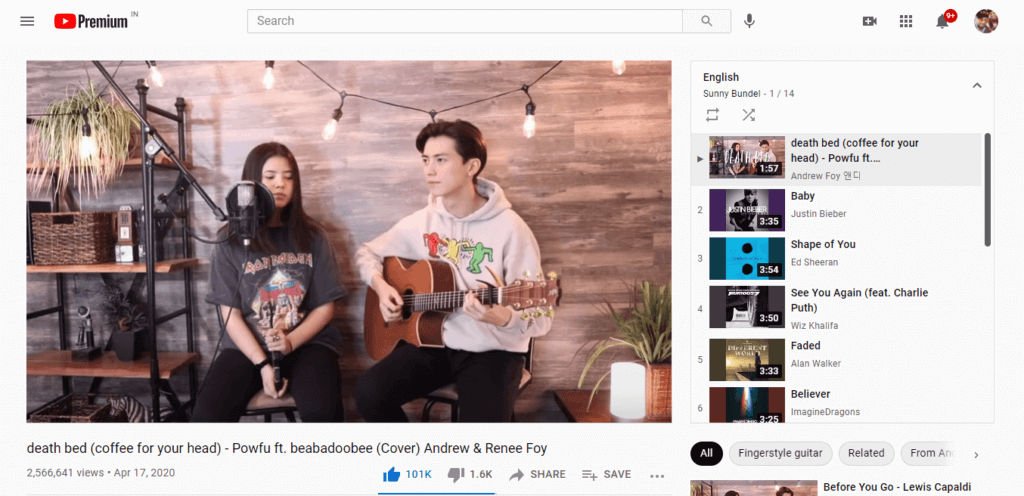 The most prominent feature of playlists on YouTube is the filtering system, which allows users to search YouTube for videos that have been added to playlists created by others. In some cases, this may seem redundant with a promotional video added to a playlist. However, filtering provides more options than simply looking at all videos and selecting those that interest you.
Process of How to Reverse a YouTube Playlist
I assure you guys that you must have learned how to reverse the YouTube playlist by the time this post is over. Let's start the process without any delay.
With the Help of Chrome Browser's Extensions
As you all know that there are many extensions available for the Chrome browser. But do you know, with the help of some of these extensions, you can play YouTube playlists in reverse order? Now, You will all have a question, how? Don't worry, I have answered this question below.
You can take the help of these 3 extensions to play the YouTube playlist in reverse order.
a) Reverse Youtube Playlist
b) Improved YouTube!
c) Iridium for YouTube
With Reverse Youtube Playlist
Step 1: Search Reverse Youtube Playlist Extension in address/search bar
Step 2: Open the first link and click on Add to Chrome
Step 3: Now, select the YouTube playlist you want to reverse
Step 4: Now, play any video from this playlist. There will be a reverse icon near, by clicking on that icon, you can play this playlist in reverse order.
If this method didn't work for you, then you can try this bonus tip. Otherwise, there is no need to follow this bonus tip.
For this problem, I had visited some threads where I got some user's suggestions. Out of them, I found it somewhere right. You guys can also try and see it.
Reverse Youtube Playlist Extenion>Add to Chrome>Select Playlist>Play in Reverse Order
 Bonus Tip
Now go to the youtube playlist to reverse and add this to the end of the URL.
&disable_polymer=true
Now, your URL look like this:-
https://www.youtube.com/watch?v=M1nd8WPZO_c&list=PL34C1F26D03F5F9B8&index=94&disable_polymer=true

With Improved YouTube!
Step 1: Download the extension from google chrome
Step 2: Select a playlist and play the first video from this playlist
Step 3: When the video starts, you will see the reverse playlist button on the Right side. Click on it.
Step 4: Now, you can enjoy this playlist in reverse order
Download Improved Youtube>Select Playlist>Play Video>Tap on the Reverse playlist
With Iridium for YouTube
Step 1: Install this Iridium for Youtube extension
Step 2: Select a playlist and play the initial video from this list
Step 3: After the video starts, tap on the reverse play button, which located on the right side
Step 4: Now, this playlist will play in reverse order
Install Iridium for Youtube>Select Playlist>Play the first Video>Click on the Reverse playlist button
By Diversifying the Order of the Playlist
If this is your own playlist, you can easily change the order of this playlist because it belongs to you. But you can't change the order of someone else's playlist.
Step 1: Open your Youtube Playlist on Desktop or Mobile App
Step 2: Tap on 3 horizontal dots
Step 3: Tap on playlist settings
Step 4: Now, click on the ADVANCED SETTINGS option
Step 5: You will see several categories in a small window, and you can select the order of your playlist in this category.
Step 6: Tap on the Save button
Youtube Playlist>Tap on 3Horizontal Dots>Playlist settings>ADVANCED SETTINGS>Select your sequence>SAVE
By Shuffling the Playlist
You can also change the order of your youtube playlist by shuffling them. You can do this change according to your choice.
Step 1: Open your Youtube playlist
Step 2: Here, you will see 2 Horizontal lines on the left side of the video's thumbnail.
Step 3: Long press on these horizontal lines
Step 4: Now, move this video up or down at your convenience.
Youtube Playlist>Long Press on Two Horizontal lines>Move according to your convenience
With the Help of Sorting
You can take the help of third-party websites to play YouTube playlists in reverse order.
Step 1: Open your Youtube playlist
Step 2: Here, you will see the sort button below the download option
Step 3: Click on the Sort option
Step 4: Change your Playlist order as per your choice.
These are some of the best methods to reverse the Youtube playlist, and you can use them in order to change the YouTube playlist.
Youtube Playlist>Tap on Sort>Change Playlist Sequence
How to reverse a youtube playlist for different devices or users
For PC Users
PC users don't need to do anything much; download the extensions (as explained above) and enjoy the music in reverse order.
For Android Users
You can play YouTube playlists in reverse order on your Android device using shuffling and sorting methods (which are explained above).
Apart from this, you can also play the playlist in reverse order by visiting a website called Playbackloop. There is no need to do anything for this; just open two tabs simultaneously in your Chrome browser. In one tab, keep the Playbackloop.com website open, and in another tab, open the youtube playlist you want to reverse.
Now finally paste the link of this YouTube playlist in the search bar of the Playbackloop website. After this, many options will be open in front of you, select the option according to your need and play the YouTube playlist in reverse order.
For IOS Users
Search YouTube in the browser present on the iPhone, then select the playlist you want to play in reverse order. Here you will see an option called Advanced Settings at the playlist setting, select it and set the order of your playlist. Finally, finish it by clicking on the save button and play the playlist in any order you want.
FAQs
Why do I want to reverse my YouTube playlist?
There are many reasons why you may want to reverse your YouTube playlist, such as playing music in the opposite direction or if you have videos that need to be played in a specific order. The ability might also come in handy if you're trying to download multiple videos from a video channel and one of the videos is longer than the other.
How do I reverse a YouTube playlist?
Read it properly, and there are plenty of methods shown in this post to reverse the youtube playlist.
Can I transfer my YouTube playlist to another account?
Yes. You can easily transfer your playlist from one account to another by logging into your original account, going into the playlists section, and clicking the "Transfer" link under the playlist you want to transfer. Once your playlist has been saved to the new account, you can access and play it normally.
Conclusion
I hope you've found this article useful and that you learned a few things about how to reverse YouTube Playlists. If you have any questions or want to share your thoughts, please leave a comment below!